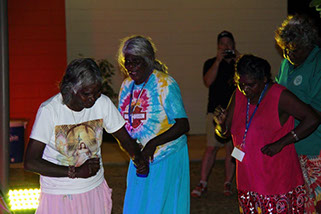 Our Mothers, Sisters, Aunties, Grandmothers and Daughters have been, and continue to be the thread which holds our families together. They have fought for justice, reconciliation and social change.
Women form the backbone of communities across Australia. This is particularly true for Aboriginal and Islander Catholic Ministries. Women are at the forefront of these community driven organizations designed to meet the spiritual and physical needs of Aboriginal and Torres Strait Islander Catholics.
It is time for us to celebrate and embrace the role that women play in our Ministries, our Church and our families. The Resource kit which NATSICC produces to assist Schools, Parishes and communities to celebrate Aboriginal and Torres Strait Islander Sunday will highlight the women in our Church and community by providing Liturgy resources, stories of faith, prayer suggestions and youth activities.
Following on from the success of last year, multi media resources will again be available to allow Parishes and schools to engage with the more tech savvy students and congregations. Powerpoint presentations, videos and youth activities have been a successful addition to the resources and have seen a large increase in the online downloads of the Resource kit.
Aboriginal and Torres Strait Islander Sunday Resource Kit
The Aboriginal and Torres Strait Islander Sunday Resources will be available in May. Hard copies are sent out to every School and Parish in Australia. Should you require a hardcopy, please contact the NATSICC Secretariat is happy to organise postage. The package includes the youth activities below as well as Liturgical suggestions, Acknowledgment and Welcome to Country guidelines and stories from the Kimberley and Torres Strait Islands.
NATSICC encourages schools to utilise the resources to help Aboriginal and Torres Strait Islander students to express and understand their faith and to educate non Indigenous students to the gifts of the world's oldest living, continual culture.
By Bishop of Broome, Christopher Saunders
This year NATSICC is offering two sets of liturgical resources. One for parish worshipping communities and another for assemblies where the majority of worshippers are Aboriginal or Torres Strait Islanders.
Broome resident Erica Bernard sees a lot of similarities in her Catholic faith and her Yawuru/Gidja spirituality.
Welcome to Country and Acknowledgment Ceremonies Guide
Experience the 2015 NATSICC Assembly in Darwin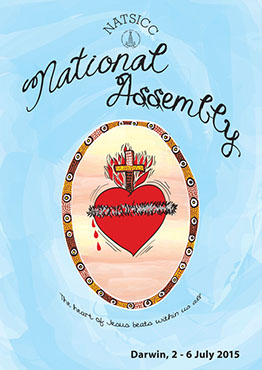 The beauty and gifts of Aboriginal and Torres Strait Islander Culture were on show at the NATSICC Assembly in Darwin. Over 300 people traveled to the Top End and the proceedings website captures the sites, sounds and expressions of faith shared at Kormilda College.
There are videos, soundcloud collections of songs and prayers and photos that you could use in your Parish, school or organisation's celebrations of Aboriginal and Torres Strait Islander Sunday.